Branded Images: An Overview
The use of branded photography in print and digital communications conveys to audiences a true picture of our campus community. Strategic placement of recognizable NMSU landmarks and the use of university apparel and branded NMSU items imparts a sense of place in the photos.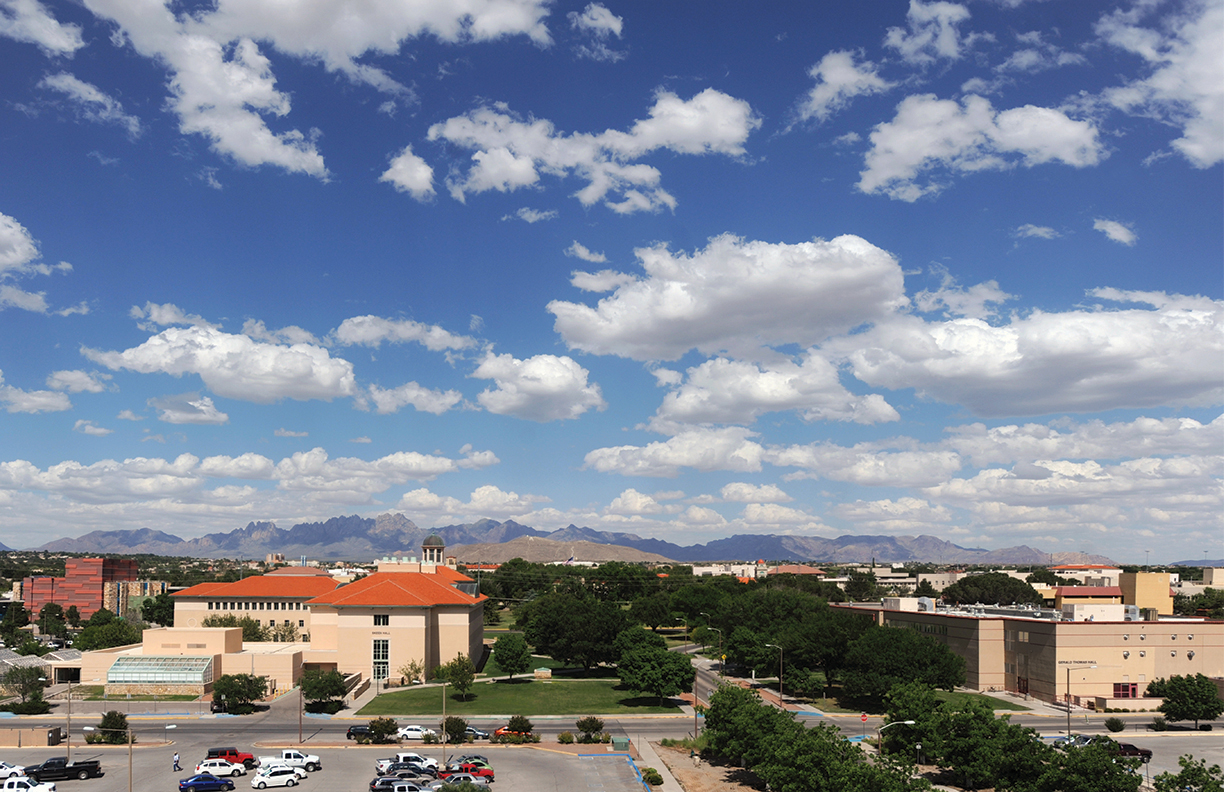 Aerial view of the NMSU campus including Skeen Hall and Gerald Thomas Hall. (Photo by Darren Phillips)
Selecting and using imagery
Selecting effective, compelling photos for your project will help you reach your audience. For the best results, consider the make-up of your primary audience and your goals. Images selected need to be a good match. For example, if your target audience is the "non-traditional" student (i.e., adult learner), photos of students in that age group will have more appeal.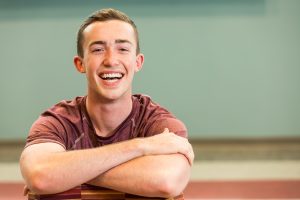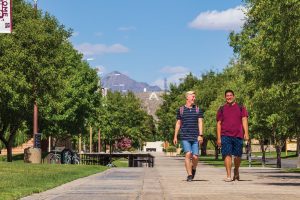 Using Photos in Print
Use high-quality, high-resolution photos (at least 300 dpi) for the best result. Low resolution can lead to poor quality images.
Crop photographs appropriately — tightly for a personal effect, loosely to capture more of the surroundings.
Consider "breaking" certain elements of a large photo out of the layout frame.
Don't use photos (or other images) derived from screen capture.
Don't use photos with watermarks.
Think about background focus.

 Use a softer background to accentuate the element in focus (above, top photo)
 Use a crisper background when place is important too (above, bottom photo)

Enhance the story being told with dynamic photos.
Camera-aware photos showcase the person (above, top photo), while candid shots emphasize their action (above, bottom photo).
How to Avoid Common Photo Problems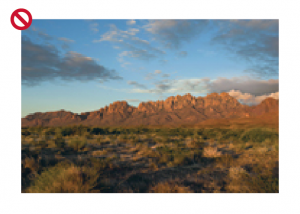 Low resolution can lead to poor quality in the final product.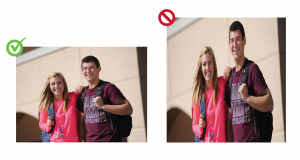 Always keep the photo proportional. Never skew the original image.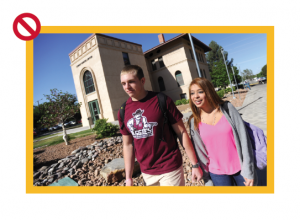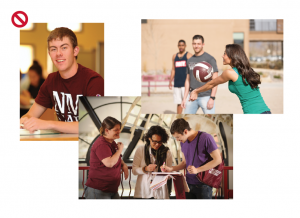 Avoid overlapping photos, that style is not part of the NMSU brand.
Using Photos in Digital
Make sure your images are optimized and sized appropriately for the Web. Downsizing your images for display will decrease the load time for your page. Image file types should be JPEG, GIF, or PNG.
Avoid using a large group photo as the featured image for your website or as the prominent image on any Web page.
Make sure to include alternative text on key (non-decorative) images. Alternative text provides a textual description of non-textual content. Without alternative text, a user with an assistive screen reader will not know what the image displays or what its purpose is. Instead the reader would provide the file structure such as "images/2013/left_picture345.png"
For more information,

 

review additional guidelines for writing and using alternative text.
NMSU Photo Archive
The
NMSU Marketing and Communications Photo Archive
is the best resource for finding the highest-quality images of the people and places that make our university unique. The recently updated archive features thousands of photos taken by skilled NMSU staff and other professional photographers over the years, with more being added daily. The new site is easy to use and there is no cost for searching or downloading digital images.
Photo archive search tips:
Use search terms that contain at least four characters.
Refine your search criteria by using the date the photo was created.
Use a keyword (ex: NMSU Campus)to refine your search.
You may search the archive for specific images by cutline or keyword.